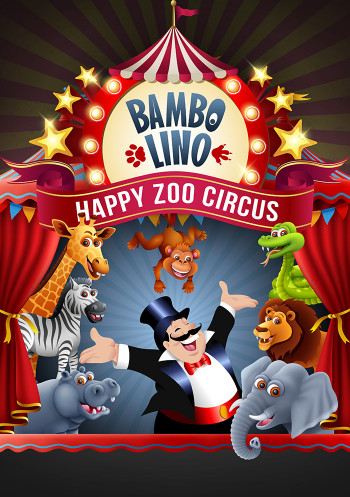 Circus theater show BAMBOLINO
19 weeks, 6 events
Chorzów , Hrubieszów, Kościan, Nysa, Sosnowiec, Wrocław
June, 2023
October, 2023
ATTENTION! First time in Poland!
BAMBOLINO, the only circus show in the world with the participation of happy animals!
Extremely colourful circus show by master Bambolino
Important information:
* Performance duration - 1:20 an hour (with a 10-minute break)
* Due to the international nature of the show, Polish songs and dialogues are played during playback.
* Children up to 2.5 years old can enter free of charge without a seat (on a parent's lap).
*** The show does NOT feature real animals, only actors dressed as animals
We will give each viewer 80 minutes of laughter and unforgettable fun
• Only in our circus will you see hippos dancing in ballet shoes
• Only with us will you witness the duel of fearless boxing kangaroos!
• And only in our arena will be presented the unusual number of cannon firings ... Rocket Man!
You want more?

• The world's only flea slayer will perform for his adorable pet
• A three-metre Amazonian python will show a trained fakir's capabilities!
And what about dessert….?
• Circus penguins
• Curious ostriches
• Charming clowns and magicians
And the star of our show: the unique orangutan Gosha
We are waiting for everyone who wants to be in the centre of circus variations!
BAMBOLINO - A circus of happy animals!
Tickets and additional information: https://pankoncert.pl/cyrk-bambolino/
the full schedule
Sosnowiec
Saturday
Sala Widowiskowo - Koncertowa MUZA
Kościan
Sunday
Kościański Ośrodek Kultury w Kościanie
Chorzów
Friday
Miejski Dom Kultury Batory
Wrocław
Tuesday
Sala Koncertowa Radia Wrocław
Hrubieszów
Monday
Hrubieszowski Dom Kultury (Kino Plon)