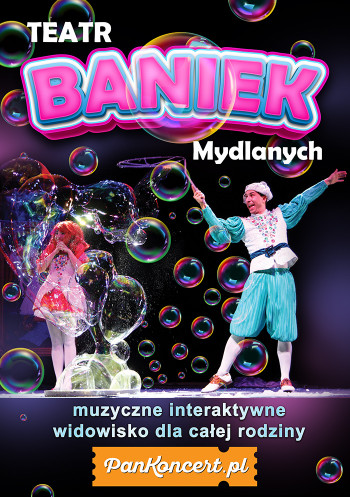 Theatre of Soap Bubbles. "The Secret of the Happiness Bubble"
1 week, 2 events
Zabrze
MIEJSKI OŚRODEK KULTURY W ZABRZU
Saturday, 2024
Sieradz
Sieradzkie Centrum Kultury
Sunday, 2024
Theatre of Soap Bubbles is a unique form of entertainment where performers use soap bubbles to create stunning visual effects and tell stories. The bubbles are manipulated in various ways using special tools and techniques, and the performers often incorporate music, dance, and other elements to enhance the performance. It is a popular form of entertainment for children and adults alike and has gained popularity in recent years as a form of interactive and immersive theater.
This is one of the most funny and unusual children's plays, where the main characters are soap bubbles! Plunge into the world of childhood and pleasure with whole family!

We invite you to the beautiful country of "Bubbleland". It is here where the most famous soap inventor and visionary Bubblittle is working hard to create a formula of the Happiness Bubble!... In his quest to find a happy formula, his friends and mentors will surely come to help!